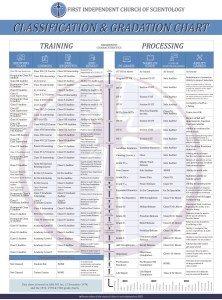 At long last, the Classification & Gradation Chart has been approved by the Technical Standards Committee (TSC) for the First Independent Church of Scientology (FICofS).
To see the full sized pdf, Click here.
Feel free to give your thoughts, criticism and praise in the comments below.
And now to catch up.
Breaking the Church Monopoly
The church did not respond to the FICofS request for a license to use Scientology copyrights and incidental trademarks. This means that FICofS has perfected its legal rights to use LRH materials and incidental trademarks and its defenses against a potential infringement lawsuit brought by the church after FICofS openly uses and practices the religion of Scientology.
Simply stated, FICofS, and any of its missions, churches or affiliated practitioners can safely exercise their First Amendment right to practice the religion. This does not mean that the church will not sue, but FICofS is locked and loaded, and fully prepared to defend and counter any such action.
FICofS – RLL Distinction
Religious Liberty League (RLL) is apart and separate from FICofS, and always has been. The line between the two was blurred when RLL assisted in the establishment of FICofS as part of RLL's project to break the church's monopoly over the copyrights and trademarks of Scientology. And more so when RLL's proprietor became a trustee and officer of FICofS.
Those positions were taken on by request and out of necessity since a legal entity had to be formed and legally constituted in order to retain the law firms and request a license to use Scientology materials. Having satisfied that need, and accomplished that stop-gap purpose those positions have been relinquished, giving a clear break between these two organizations.
FICofS Website
FICofS is in the process of building its own website. It owns two domains, one with the name spelled out and the other abbreviated. .org and .com for both.
For future news about FICofS please visit those web sites.
CNN Series Believer Scientology Episode
For the first time, a fair and accurate depiction of Scientology has aired on a major television network. Reza Aslan, a religious studies scholar, tackled the subject as part of his Believer series that aired on CNN.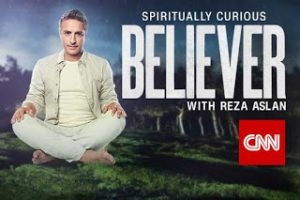 Because the church refused to participate, Aslan sought out members of the independent field and in the process discovered a theme we have discussed on this blog, namely that Scientology is undergoing its own reformation.
Aslan made a key point that so many people in our society are incapable of recognizing in other religions not their own, especially in minority religions:
There is a difference between a religious philosophy and the institutions that propagate it. The church of Scientology does not equal the religion of Scientology, in other words.
At the beginning of the Scientology episode a statement from the church was shown in white script on a black background:
"[T]he individuals featured in this show were expelled from the Church and can therefore no longer be considered TRUE Scientologists."
Ah, the arrogance. Apparently, church leader David Miscavige has not studied history. The Christians have already proven that popes and churches cannot dictate who is and who is not a true religious adherent. It's in your heart, your soul, and your conduct, none of which others can control.
We applaud Reza Aslan for his courage and professional integrity as well as the persons who contributed to this documentary. Well done, all.
If you missed the show, you can view it here: Believer, Scientology Episode